Top 10 Indian Hairstyles that you love
The most popular of the Indian bridal hairstyles is the "Braid". And it is generally accessorized with a lot of flowers. Several choices of hairstyles can be found with the main essence being a bouffant up-do with a braid. Here are our top 10 Indian hairstyles which you can choose from and sport at the next wedding or family occasion.
This is a lovely North Indian hairstyle. But you have to choose the right hair accessory like the Maang Tika, one which comes with bands for adoring the hair. Use some garlands of jasmine at the back of the knot from where you will be making the braid and you will look stunning
http://pinterest.com/pin/207095282837019610/
Try this one out but mind the sectioning of hair at the crown. If you are south Indian bride, then this will definitely steal the show!
There should be a middle sectioning from where the Maang Tika will be placed. And with a little teasing at the back from where the braid starts, this look will shine. Use of white jasmine garland can also be adopted to add beauty to this hairstyle. Use fresh flowers or false hair accessories that look real!
http://pinterest.com/pin/294071050638225903/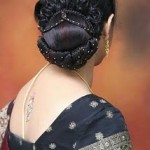 3. Big back bun hairstyle
A nice hairstyle for even an elderly woman to wear to any party or a get-together.
This can be done rather easily with the correct false-bun hair accessories.
Definitely more traditional and not so glamourous!
http://pinterest.com/pin/93801604708341518/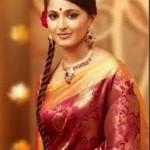 4. Retro style Indian hairstyle with a braid
This is a retro style hairdo! And we all love the retro look, don't we? It doesn't matter which part of India you are from. This style is universal.
Make a bouffant or tease the hair-up with the braided hair running at one side. Take all the hair to one side and make the braid so that it stays at one side. If you do not have the hair-length then use hair extensions. Use a big red flower or some big floral hair accessories at the bouffant.
http://pinterest.com/pin/515240013588820978/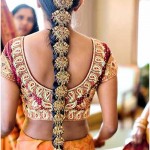 5. Long jewelled braided hair
A popular south Indian hairstyle for a glamorous look! Try this one out but make sure you have those lovely hair accessories that go with it.
If you do not have long enough hair then try out hair extensions. There are lot of types of hair extension. Remy is generally considered the best as it tends to stay shiny and "tangle free" longer.
http://pinterest.com/pin/252905335296869146/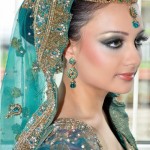 6. The bun hairstyle with accessories
This can be a nice modern Indian wedding hairstyle. You can try this out at your reception or a get-together.
Make a teased back-bun, not necessarily at the top. Adorn the front of the head with a nice accessory which is in the lines of a Maang Tika. A great change here can be brought by using Maang Tika that doesn't need the middle parting. The overall hairstyle is a back brushed look.
http://pinterest.com/pin/207095282837337951/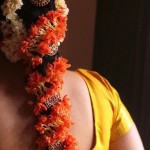 7. Braided hairstyle with a bun and real twisted floral garlands
This can be a lovely hairstyle if you like real flowers and want to showcase a braided hairstyle look. Use orange and white floral garlands in twisted fashion.
Also do not forget the hair jewellery.
http://pinterest.com/pin/253397916504381344/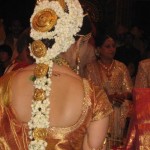 8. The crowned and garland look
This can be an authentic south Indian wedding hairstyle. Try this one out. You will need to find the right accessories to go with it though. Be careful with your picks!
A garland is a decorative wreath or cord.
http://pinterest.com/pin/141019032052493814/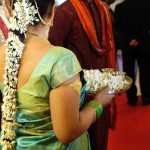 9. Floral wrapped braid hairstyle
This is a neat and clean braided hairstyle look with full length natural floral garland wrapping. Try to use real flowers for the best effect.
South Indian or North Indian wedding, this style rules!
http://pinterest.com/pin/381539399651662150/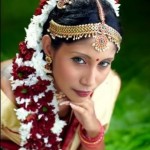 10. The full length floral look
This is a braid hairstyle which can be covered for the entire length with big real floral garlands. This can be a great hairstyle if you want to give a flowery touch to your hairstyle. A middle parting with a Maang Tika adds the needed jewellery and glamour to this hairstyle.
http://pinterest.com/pin/49821139598621275/
Which of this Indian hairstyle do you wish to sport at the next wedding or other occassion you go to? Let us know!
References:
http://www.stylecraze.com/articles/10-best-indian-hairstyles/
http://www.stylecraze.com/articles/hairstyles/bridal-hairstyle-s/