Trevor Sorbie's artistic team created a stir at the 58th L'Oreal Colour Trophy Grand Final 2013.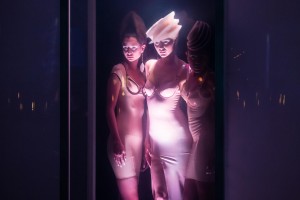 The show began with an installation tank concept taking centre stage as a giant tank was steamed and cleared to reveal the models inside. Art influenced 3D architectural hair created by Adam Szabo, Bree Walker and Mai Ha worked in harmony with choreography designed to create interesting shapes and silhouettes while the styling was focused on skin-tight garments creating an edgy, sci-fi look.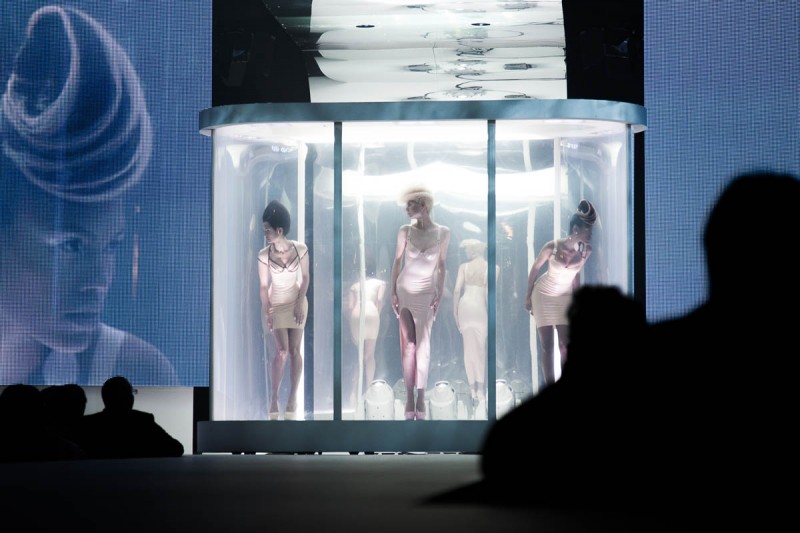 The second section brought to life Johanna Cree Brown's latest model collection, inspired by her 'Jessica Rabbit' shot featuring flame coloured hair. Johanna, head of the Trevor Sorbie Artistic Team, said, "L'Oreal asked me to produce five models to sit with the story. The hair was coloured to match the styling, creating a colour blocking visual. All the colours the team used were put onto the last model to give life to a high fashion story that could have come from the pages of Vogue Italia. Fanoulla at Covent Garden worked on all the colours for this section.
The presentation was brought to an avant garde finale conceptualized by Trevor, Alfie, Bree and Tiziana with a dominatrix-style model in a latex catsuit striding in from the back of the venue with a sphere covered in pieces of hair, which lifted to reveal the acrylic wig pioneered by Johanna in her Airborne video. This was contrasted with 2 playful, disco inspired girls in kabukis with light pink and light blue pixie crops, which 'grew' as the models pulled them – an idea that came from Alfie at the Hampstead salon.
Johanna says, "I loved that it was 3 different stories with no connection, it really allowed us to explore completely different concepts. As Trevor said on the night, it was 7 months in the planning, absolutely amazing, and a phenomenal amount of work! We did months of prep and really wanted to do something special. It's an opportunity to work with a great budget and L'Oreal really supported us over our ideas. There was a lot of work behind the scenes, assistants were staying until midnight, the Hampstead salon made all the pieces for the spheres, so a big thank you to everyone who helped on it and to American Dream Extensions who sponsored hair for the show, and Trendco Hair Supplies who provided all wigs."