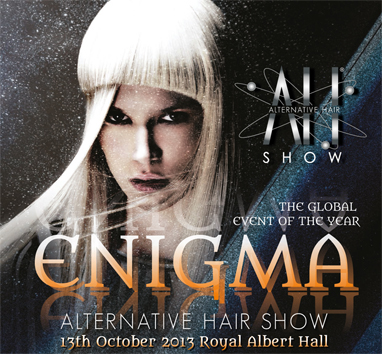 The Royal Albert Hall in London is the venue for this year's Alternative Hair Show which will be taking place on Sunday 13 October 2013.
The theme for the 31st show is Enigma – a chance for the show teams to present their own personal interpretation, pushing their creative boundaries and creating something stunningly beautiful and theatrical.
The teams, which give up their time for free, help to support Alternative Hair's charity 'Fighting Leukaemia'. Already confirmed for this year's event are international teams from: Anne Veck UK; Fehringer
 Austria; Bundy Bundy Austria; Klaus Peter Ochs Germany; Robert Masciave UK; Kohsuke Japan; e Salon Australia; Mahogany UK; Carlo Bay Italy; Peter Mark Ireland; Sanrizz UK; Saco UK; Laszlo Hajas Hungary; TIGI Creative Team UK; Mikel Luzea Spain. Over the last 30 years the Shows have raised over 8.5 million for leukemia charities in the UK, Austria, Italy, Japan, Russia and USA.
The International Visionary Award will also take place at the event, offering new talent the opportunity to showcase their creativity. Entry to the International Visionary Award is by photographic submission. Full details and application form can be downloaded at the website.  Tickets for the event are available www.alternativehair.org