The Brit Awards saw the music industry's brightest stars take to the red carpet. We asked some top experts for their opinions and tips on how to get the star styles.
Lily Allen's colour with former London Hairdresser of the Year Karine Jackson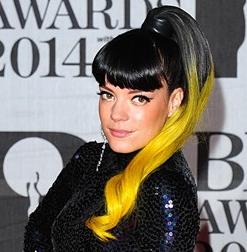 Temporary colours are a great way of experimenting with your hair with very little commitment. Lily's been showcasing some bold looks recently and this bright yellow shade is certainly no different. Lily's look is most definitely a hair piece coloured to blend in with her hair; if you're working with a hair piece make sure you use a super blonde shade as the colour will take well – on a dark shade the colour won't show. The look is so easy to recreate and washes out so requires almost no commitment. There's so many ways to achieve this look but hair chalks or a bold eyeshadow are the best tools – all you need is your chosen colour and a can of hairspray.
1. Choose a colour, preferably something that contrasts against your hair. An eyeshadow with a bit of shimmer would look great for a night out!
2. Wet the chalk or shadow as this will intensify the colour and then using your fingertips, apply the colour to the tips and lengths of your hair. Rub the shade in using your fingers to evenly coat the strands.
3. Spray liberally with a stronghold hairspray to seal the colour in – the best part is you can wash it out the next day!
Karine Jackson says "If you love the look you can then opt for a more permanent colour in the salon. At my salon we use an organic, ammonia free colour from the Organic Colour Systems No Limits range that lasts up to 12 washes."
The 90's Ponytail with current Wales and South West Hairdresser of the Year Dafydd Rhys
Lily's always one to give a street/urban twist on a catwalk look, the 90's power pony has been all over the catwalks this season and is really filtering down to the high street now. To get her look:
1. Secure the hair into a tight pony above the crown; if you're hair isn't particularly long or thick try securing in an Effortless Extension to give you a boost.
2. Spray the hair liberally with hairspray – get lily's laminated feel by spraying the hairspray closely.
3. For an oversized ponytail, micro crimp the inside to get some serious volume.
Rosie Huntington-Whiteley's Sunkissed tresses with Poppy Delevingne's colourist Jack Howard…
Rosie probably has just come back from a sun-drenched holiday but you can get her gorgeous blonde locks with the help of Balayage. It's fast becoming the alternative to the dated foils technique of highlighting. It's versatile and modern, giving a sun-kissed look to the hair, which grows out naturally rather as opposed to the heavy colour you get with foils.
It's all about looking as though you've just come back from a sun-drenched Caribbean holiday. This look works equally well on darker bases as it helps to lift the complexion giving you a gorgeous look for summer.
Wild Volume from Ella Eyre with Dafydd Rhys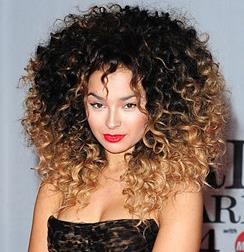 Rising star Ella's voluminous curls scream fun! Her look is bang on trend as we head towards Spring/Summer. To get her look:
1. Curl the entire head with a small wand to give you super tight curls.
2. Apply L'Oreal Professionnel's Crépage De Chignon (from the Wild Stylers range) to the roots to get some serious volume and depth.
3. Instead of using your fingers to break up the curl, use a pintail comb and tease the curl out for Ella's look.
Beyonce's Tumbling Waves with Momoko Hair Shaping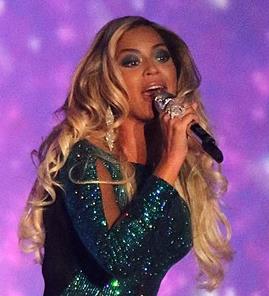 Kai Wan director of the Pkai salons says "Although she jetted in and out of the UK in a matter of hours we still had time to marvel at Beyonce's blonde curls."
Gorgeous bouncy waves never go out of fashion and superstar Beyonce will have had everyone running to their tongs to recreate her glamourous curls.
Why spend ages with tongs when you can have a longer lasting solution. Momoko Hair Shaping gives you the curls of your dreams without the need for tongs – it's even suitable for bleached hair.
And over to the boys…
Alex Turner's Rockabilly look with Dafydd Rhys…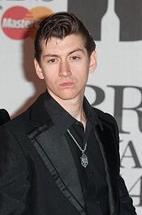 It really was Arctic Monkey's night – uber cool front man Alex Turner epitomised rock star cool with his 50's style. He certainly has evolved his style over the years, from 90's grunge to 60's Mod and now his new look. To get the star's style:
1. Apply L'Oreal Professionnel Volume Lift Mousse to the hair and blow dry using a Denman brush in a backwards and up motion to create that cool 50's shape.
2. Once the hair is dry, use Brylcreem for to sculpt the hair and give a glossy finish.
3. To finish use a wide-toothed comb to dress the hair out. Using a comb like this will also leave that cool ridged impression that Alex had.
Facial hair with Dafydd Rhys….
There seemed to be such a divide on the red carpet last night between the clean-shaven American artists like Pharrell and Bruno Mars and the British men such as the members of Bastille and Lawson. The resurgence of the beard has sent men everywhere into a grooming frenzy but if you're going to try out this trend make sure you follow these tips:
It takes about four weeks for a beard to start to take shape so be patient. Give it a chance to grow before you start shaping it – you want a substantial amount of thickness and length.
The best place to start shaping your beard is at the neckline using a trimmer. Never shape the beard at the cheekbones, as it will create an unwanted cartoon-effect.
Make sure you cleanse the beard as you would your hair. Use a good quality shampoo such as Aveda Men Exfoliating Shampoo as this will help get rid of dead skin cells that can cause irritation.
Notes to stylists:
Dafydd Rhys is at Ken Picton, 8 Mermaid Quay, Cardiff, CF10 5BZ. For appointments call: 029 2066 2080 www.kenpicton.com Karine Jackson is at 24 Litchfield Street, Covent Garden, London WC2H 9NJ. For appointments call: 020 7836 0300 www.karinejackson.co.uk P.Kai is at Hampton Salon, Unit 5a Serpentine Green Shopping Centre, Hampton, Peterborough Cambridgeshire, P37 8BE tel. 01733 358835 and also at Westgate Salon, 15 The Arcade, Westgate, Peterborough, Cambridgeshire, PE1 1PY tel. 01733 358825