Christmas for many people is about giving and receiving gifts, something that Emma and Matthew Hellier owners of The Retreat Hair and Beauty decided to go with-out last year.
On Christmas Eve 2012 they travelled out to Iringa, Tanzania ready to spend the festive season volunteering with an organisation called FISCH. "Future for Iringa Street Children" act as a drop in centre for over 250 homeless children; offering food, shelter, health care and education.
They spent their time there using both Matthew's skills as a web designer to create a record database and network systems and Emma's past experience as a hairdressing teacher; teaching English.
Matthew said "some of the tasks we were doing, may seem menial, but they make a huge difference in running FISCH and help to provide evidence of their work and so aid in funding the project"
It was toward the end of their time in Africa that they were able to achieve something truly amazing for one homeless child.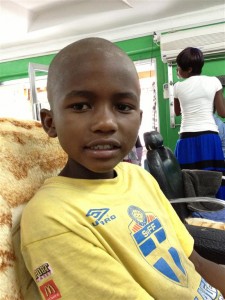 Salimini was 8 years old, he had arrived in Iringa accidentally 4 months previous via the same bus route Emma and Matthew had, and FISCH had so far been unsuccessful in tracing his family. Struck by his story Matthew and Emma offered to take him back to his home town themselves and try to find his family again.
FISCH allowed the couple to do so and on their last day in Tanzania, Salimini joined them on the 12 hour journey to Dar Es Salaam. Using a friend made whilst traveling (a teacher from Dar) they spent the next 6 hours following the 8 year old's directions, taking them late into the night before they finally found his village.
Emma said "We arrived at an empty house which Salimini claimed was his; after talking to locals we found out that it had been empty for months; it was only when we mentioned Salimini's name that the whole night took a very strange turn"
The couple later found out that Salimini's parents had been evicted from their home after spending all their money in an attempt to track down their missing son; unsuccessful and accepting Salimini must be dead, they held a public funeral in the village. Now here he was "back from the dead" and with two white people, one with pink hair! The spectacle brought the whole of the village out to see them and created quite a frenzied scene of hundreds of people wanting to meet them.
In the end Salimini's family was found in the next village; they were overjoyed to be reunited again. Matthew and Emma will now insure that Salimini is well looked after and will keep in contact should he need them again.
If anyone is interested to read the whole story of their time in Africa visit www.EmmaHellier.com or if you are interested in volunteering yourself visit www.goFISCH.org