HairUK 18-19 May 2014
Join us at HairUK – part of the largest hair and beauty trade show outside of London – on Sunday 18th and Monday 19th May at the NEC Birmingham.
Last year the show attracted over 25,000 visitors, with the 6,600 HairUK attendees being 1/3  salon owners and 2/3 hairdressers.
This year's show welcomes over 500 brands and features HairUK as well as BeautyUK, NailsUK and Holistic Health all under one roof.
Register in advance to receive free tickets at www.HairUKShow.co.uk
Latest Exhibitors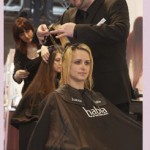 See the launch of Color Cones, transforming the techniques for Highlights and Lowlights across the colouring spectrum. Color Cones are making their debut on Stand B26, and see demonstrations on the Style Stage on both days of the show.
Enjoy VAT-free offers from Sui Generis World on their Oro Therapy 24K range on Stand D15, and remember to enter their competition to win £500 worth of products. Plus, get VAT-free offers on Extensilk Hair Extensions in 30 natural colours and 22 vibrant colours.
Receive a free e-book, The Salon Owners Bible by Simon Lotinga when you have a free consultation with I'ma Hair Salon on Stand D29.
I'ma Salon has brought together all the marketing services a salon needs into one place, including websites, social media, search, design, print, email and more
Social Media
If you can't attend, or want to keep up to date with the latest show offers, competitions and prize draws, follow the show at Twitter@HairUKShow, Facebook /HairUKShow and Instagram @guildpress