Last night's Golden Globes saw the stars descend on the red-carpet to celebrate a year of cinema and television. Check out the steps below for tips on getting some of these looks at home. Poppy Delevingne's colourist Jack Howard, Ken Picton, Karine Jackson, Luke Benson and Kai Wan provide hair tips whilst Leanne Shaw, resident make-up artist for Frontcover Cosmetics, provides make-up tips.
 Jennifer Lawrence
Never mind the Girl On Fire, Jennifer seems to have acquired the title Girl Who Can Do No Wrong, as she became the winner of Best Supporting Actress in a Musical or Comedy for her role in American Hustle. Wearing a show-stopping Christian Dior dress, Jennifer debuted a gorgeous dark lip and grey eyes combination that was paired perfectly with her pixie crop.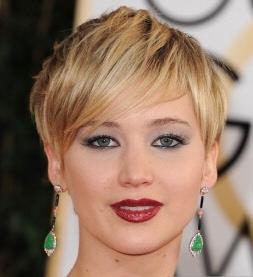 "Jennifer's haircut is really cool and so versatile as she has demonstrated over the last few months. If you have a crop, simply create a heavy side parting and spray on a generous amount of heat protection spray (this look is all about sleekness rather than texture) and then dry the hair on a low heat for the silkiest finish" Karine Jackson
To get Jennifer's red carpet look, simply follow these steps using the Midnight collection from Frontcover Cosmetics.
1. Apply a wash of Moondust across the lid and up to the brow bone.
2. Dot the Midnight Eye Pencil under the lower lashes and smudge slightly for a rocky look.
3. Apply the pencil along the upper rim of the eye and apply mascara
4. For Jennifer's vampy lips, add a touch of you usual foundation to lips for to create a blank canvas and then apply Moonstone across the lips to finish.
Amy Adams
Winner of Best Actress in Musical or Comedy for her role in American Hustle, Amy Adams has also been appearing on many best-dressed lists for her two-toned Valentino gown.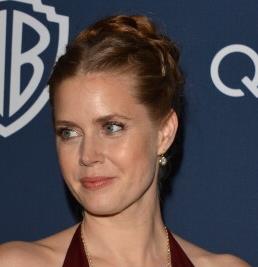 "This braided updo is a perfect red carpet style all year round; just centre part your hair and French plait each side to the back of your head then gather the loose hair and braid into one chunky plait and twisting into a bun to finish." Ken Picton
To get Amy's sparkling eyes follow these steps using the Party Queen collection from Frontcover Cosmetics
1. Prep the lid with Shadowbase and apply Rock over the entire lid.
2. Mix a little of the Terracotta and Doubloon pigments together to create a bronze-gold glitter; using the Mini Blender Brush to apply the pigment along the upper lash line, and under the lower lash line for a subtle sparkle – wipe off any excess glitter.
3. Apply mascara to the top lashes only
4. Apply the Suits All Lip Gloss and Stain to the lips for a nude lip that lets the eyes do the talking.
 Zooey Deschanel
 New Girl actress Zooey is well known for her quirky style and she didn't disappoint in her cream Oscar De La Renta dress accesorised with sparkling shoes and vintage jewellery.
Zooey kept her hair vintage inspired by sweeping her hair to the side into a bun and accessorising with some flowers; Ken Picton says that when choosing flowers to accessorise make sure to work with your hair colour "Vintage looking blooms work the best with brunette hair for a classic, timeless look. I like ivory lilies and white roses especially as they provide a beautiful contrast against darker hair – if you are blonde try pinks or soft yellows and if you are a redhead try greens or whites for a boho feel."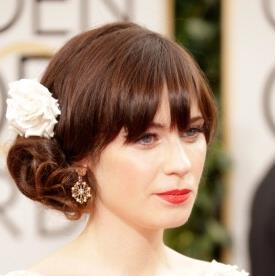 To get Zooey' s classic look, simply follow these steps using the Style Queen collection from Frontcover Cosmetics.
1. Prep the lid with Shadowbase
2. Apply Gardie Grey over the entire lid with the Rounded Shader Brush
3. Using the Mini Blender Brush, dot Grey Grey under the lower lashes and blend.
4. Curl your lashes using the Eyelash Curler and apply 2 coats of mascaras for fluttery eyes
5. Using the Lip Brush apply Red Moon over lips for a classic red lip.
 Cate Blanchett
Winning Best Actress in a Motion Picture for her role in Blue Jasmine, Cate wowed the awards with her gothic lace Armani Prive gown. As a red carpet pro Cate paired her dark dress with a fresh pink lip and a classic bob.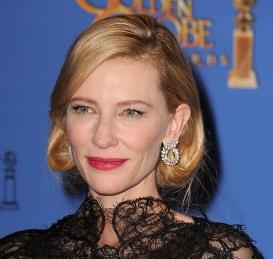 "Celebs like Nicole Scherzinger and Leona Lewis have been rocking this look recently – all you need to do is: back brush sections of hair from the nape up to the curvature of the head, take the hair above these sections and wrap under, gripping the hair at the nape to give illusion of a bob shape" – Luke Benson, D&J Ambrose
To get Cate's pinks lips follow these top tips
1. Prep the lips with a touch of you usual foundation to create a blank canvas
2. Pink lips look fresh and youthful but make sure you match it to your skin tone for the best look. Pink Lady from the Lipstick Collection is a dead ringer for Cate's shade.
3. Apply a little gloss over the top for a gorgeous sheen.
Hayden Panettiere
 Nashville star Hayden rocked a slicked back hairstyle, which looked incredible against her Tom Ford monochrome dress.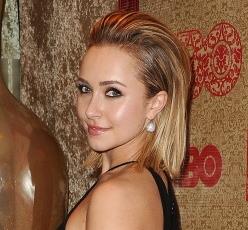 "This uber-slick styling is purely and simply, modern glamour at its very best. With simple make-up and styling this look really works for Hayden – It's a bang up to date take on a sleek evening look. To recreate this look try mixing serum or oil with gel and apply the mixture with a comb to slick the hair back, just running straighteners over the mid lengths and ends to finish" Kai Wan, Pkai
To get Hayden's glowing make-up follow these steps using the Metallics Collection from Frontcover Cosmetics.
1. Apply a wash of colour such as Gold Blush.
2. Using kohl eyeliner, line the eye thickly for depth and coat the lashes with volumising mascara.
3. Apply a peachy blush such as the Spring Cream Blusher for a flushed glow
4. Apply Tin Tack to the lips and add a little gloss to finish.
Drew Barrymore
Pregnant star Drew was blooming in her gorgeous Monique Lhullier dress.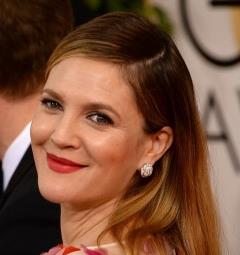 "The Golden Globes are a key event to look for the S/S trends that celebs are sporting. Drew's ombre is a great example of this – for 2014 we will still be seeing the ombre effect, it's soft and commercial looking" Jack Howard
I love that Drew has matched the bright colours of her dress to her perfect poppy lips (I'd recommend Grenadine from the Lipstick Collection for a great colour match) With such a statement dress and lip combo it's important to keep everything else neutral to avoid overkill.
Images courtesy of Getty Images. Used under "Fair Use" Rule
Luke Benson is at D & J Ambrose Bridge Street, Pinner, Middlesex, HA5 3JE     Appointments: 020 8868 9174
 Ken Picton is at 8 Mermaid Quay, Cardiff, CF10 5BZ. For appointments call: 029 2066 2080 www.kenpicton.com
 Karine Jackson is at 24 Litchfield Street, Covent Garden, London WC2H 9NJ. For appointments call: 020 7836 0300 www.karinejackson.co.uk
 P.Kai is at Hampton Salon, Unit 5a Serpentine Green Shopping Centre, Hampton, Peterborough Cambridgeshire, P37 8BE tel. 01733 358835 and also at Westgate Salon, 15 The Arcade, Westgate, Peterborough, Cambridgeshire, PE1 1PY tel. 01733 358825