Beauty is Booming
That's the message received loud and clear and this year's Professional Beauty show. The record breaking show saw 34,103 visitors pour through its doors on March 4 & 5, and an increase in exhibitors of 25% over 2011.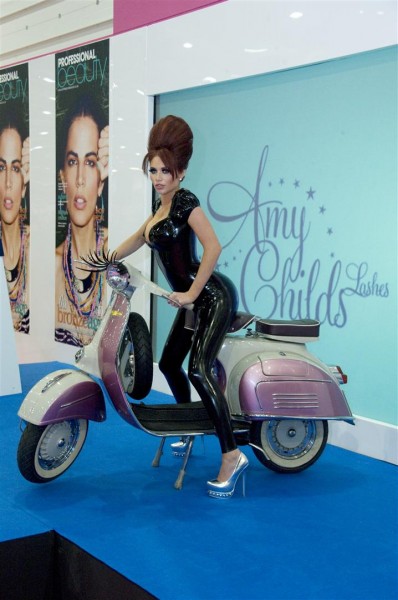 Officially opened by Nell McAndrew on behalf of Professional Beauty's chosen charity Ovarian Action the show was packed full of leading spa and salon owners, therapists, nail technicians, make-up artists as well as celebrities. From Amy Childs, who virtually brought the show to a standstill as she launched her brand new lashes, to Lauren Goodger, Joey Essex, Hilary Devey, Katie Price, Strictly Come Dancing's Natalie Lowe and Camilla Dallerup who was filming a whole sequence on the Show for Channel 5. Professional Beauty even made it onto Fearne Cotton's show on Radio One.
Big Brands Back the Show
Robin Vincent, managing director, Clarins UK said: "It's been an excellent show for us. We already have a strong professional base but you can never sit still in this business. There's always more you can do and Professional Beauty was the right way for us to come back to trade shows. It's been a very positive experience for us.". Clarins chose the Show to mark a return after 25 years to UK trade shows.
"It's been fantastic," said Sam Keegan, national sales director, salon & spa division, Decléor & Carita; "We've definitely had the volume of visitors but also the quality – we've seen some great people so we're optimisitc that we'll get some strong business from the leads we've made. We've also seen more of our existing accounts here than ever before which is important for us."
First Time Success
We spoke to several first time exhibitors and they were very pleased with the response. Booking a show is a challenging step for newcomers but the gamble paid off.
Marie McGann from Sleep-in Rollers said "We received visits from all the Towie girls who declared their undying love for the brand !! Amy Childs was presenting an award which created massive crowds and chaos. As she made her way to the stage she spotted our model in the crowd wearing the rollers and said she loved them and could she get some. The same with Katie Price and her camera crew, she spotted our model ( who happened to be hovering!) and asked her what stand we were at, she said "Now these I've got to have!!"
Venus Veil, showing their intricate 99.9% gold tattoos, were inundated at their modest stand and received great feedback from all their visitors, as well as the all important sales and orders. Designed for the salon market, the beautiful designs are made from pure gold, are rich and artistic, and a compliment to any outfit.  The luxurious gold experience can be enhanced with crystals or gemstones, creating a unique beauty experience. Watch out for this glamorous body art is coming to a salon near you!
"What a great show! It was our first time at professional beauty and we were overwhelmed by the fantastic response we received and will definitely be back next year" enthused Tom James, Creative Director, Venus Veil Europe.
The UK beauty sector is bucking the economic gloom and grew 2.2% last year. Salon owners, students and brands big and small came away from Professional Beauty inspired and feeling more confident about what shows all the signs of another record breaking year.
More pictures in our
show gallery
.
Professional Beauty will be back in London for 2013 on February 24 & 25 and already over 100 companies have booked their stands.
The next Professional Beauty Shows are in Dublin on 30th Sept and 1st October and Manchester on 14th and 15th October 2012