Bad hair days? Good hair days? We all go through different phases often taking after our favourite idol. Remember how would you would look at your screen idol and reckon his or her hair style would suit you. Some of us didn't have idols and just went along with hair today gone tomorrow. Those were the days when we had more hair on our head and less hair on parts of our body we rather not mention. When was the first time you were forced to go the hairdresser by your parents? This is the first in a series of interviews.
Stephen Moorhouse is 37 years old , lives in Putney and is a Production Director.
What was you hair like when you were younger? I had fine , wavy , light brown hair when I was 10 years old.
Do you go to the hairdressers? I do not go to the hairdressers. I normally shave my hair with clippers.
So do you use shampoo? I use shower gels to clean my hair . All detergents are the same!
Do you dye your hair? I do not dye my hair.
Have you ever considered hair replacement? No. Hair loss doesn't bother me.
So what are the advantages of hair loss? It is quicker to wash my hair, quicker to dry and I don't need to brush or comb my hair. I save money and there chick advantages as all woman like the shaven look!
So what are the disadvantages? It is cold in winter and I sometimes get sunburn.
How do you know when your hair needs cutting? When I look in the mirror and my hair sticks out. Its all down to style.
Who is your favourite hair icon? Homer Simspon and Father Jack.
Matthew is 42 years old,  lives in Hertford and is a Media Co-ordinator.
What was your hair like when you were younger? Plentiful and blonde. God I was a gorgeous looking baby!
Do you go to the hairdressers and how often? Yes, I go every other month. Mainly when I got the cash and it costs me £10 a visit.
What shampoo do you use? Head and Shoulders regular.
Do you dye your hair? I have done in the past but regretted it when I had my hair highlighted I thought I looked cool but my friends thought it looked like a bird had an accident on me!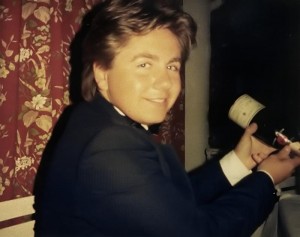 Looking through your photos I see you had a pony tail. Could you tell me why you got rid of it? It use to take ages to dry after I had my daily showers. The final decider was when I was on the bus and some guy tapped me on the shoulder and said "excuse me Miss." I went straight to the hair dressers and got the pony tail cut off. I still have my pony tail in the loft. Dont tell my girlfriend!
How do you know when your hair needs cutting? When my girl friend tells me.
Who is your favourite hair icon? Don Johnson ( Actor from the 80's who was famous for being in Miami Vice) and Julian Cope ( a famous musician from the 80's)
Hair Icons
Whether you have hair or no hair you can still feel amazing. Stephen does not need a hair transplant as he feels content with his hair. Men who are like Stephen has the advantage of getting out of the shower and they don't need to go the hair dressers at all. So it can be far cheaper for a person who has very little hair. On the other hand Matthew loved his long hair but he was mistaken for being a woman even though some of us ladies might prefer men with long hair, short hair, shaven hair but I guess it's down to personal preference really. Men who are like Matthew who have hair have to go the hairdressers and get their hair cut every few months. We have our own favourite hair icon so we try and get our hair done by having the same hair style or hair cut from famous celebrities.