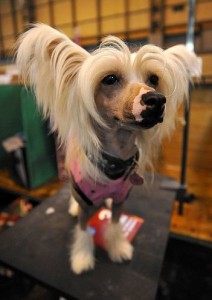 There is an intense row going on in the world of show poodles involving the use of hairspray after all the dogs at Crufts this year tested positive for the illicit grooming product.
Apparently hairspray is considered a "performance-enhancing" product and is therefore banned by the elite competition.
After every dog tested positive at this years even but, under opposition from owners, the club has agreed not only to take no action against the guilty dogs, but also to suspend the entire testing regime.
The pressure has been led by a group of owners — nicknamed the "Elnett revolutionaries" –  who are trying to force changes in the rules to legalize some of the banned practices.
Other techniques include appling chalk to cover blemishes of white coloured pooches, and silicone gels are also suspected of being used to give a shine to the dogs' coats.
Sandy Vincent, secretary of the Standard Poodle Club of Great Britain is quoted as saying "The bottom line is that we've always used hairspray. We know it is against the rules but everyone has done it and done it very carefully. Whether you like it or not, dog shows are beauty competitions of sorts. [The ban] is like Miss World going in without her make up on."
What do you think? Should hairspray be banned from beauty competitions?