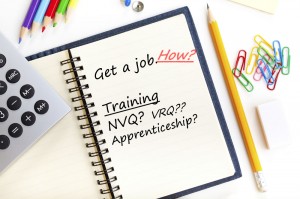 Are you fond of hairstyling your own hair or even other people's hair? Do you have creative ideas or new ways to style hair? Do you feel that sense of fulfillment once you groom your own hair or someone else's and they thank you for a job well done and you see the evidence on their face that they are really happy with the outcome? Could you be dreaming of becoming a prominent and well respected hairdresser someday? And hopefully build your very own salon in the future where it will cater to all the different and individual hairstyling needs?
If your answer is yes to all these questions, then you just got yourself on track as we will be guiding you step by step towards your ambitions of starting your hairdressing apprenticeship and get you on your way to becoming a full time hairdresser.
Without any further ado, there are three major steps towards becoming a professional hairdresser. First is to become an apprentice in a salon, followed by passing the requirements of a hairdresser's national vocational qualifications (NVQs), and then lastly pursue a higher degree on hairdressing.
Here we will focus on the first and the second steps.
What is a hairdressing apprenticeship?
As the title speaks for itself, simply a hairdressing apprenticeship is when an individual undergoes training under a certified superior to learn and practice the basic skills of hairdressing in the premises of a salon. And by basic skills we mean booking appointments for clients, shampooing, conditioning and drying hair, mixing and applying color, perming and relaxing, cutting and styling the hair to suit the client's face shape, and promoting products to allow the client to look and feel good about the self. As you get advanced by time, cutting and coloring skills will eventually be mastered allowing you to set trends as you become even more creative and bold.
Once your job starts as an apprentice, you have to prepare yourself to stand for long hours and have enough energy to face your clients in a welcoming and accommodating manner. More importantly than the products you will use on the client's hairs, it is your service that they are availing and so you need to be able to communicate with them well to provide for customer satisfaction. Always have yourself presentably groomed and if possible make your hairstyle more stylish than your clients thus giving them confidence that you know what you are doing and encouraging them to care for their hair as much.
It is essential to take this first step of apprenticeship because it will allow you to earn money (thus support your daily expenses and further needs to continue with your hairdressing career) and at the same time gain the skills you require in order for you to gain the national vocational qualifications of a hairdresser.
Where do you find available hairdressing apprenticeships?
You have two options for this. If you are still studying and want to take a part time apprentice job, you can consult your school's Vocational Education and Training (VET) coordinator for he/she can help you decide the best option out there.
But if you are already done with studying and want to go full time as a hairdresser, research is key. You can call the National Apprenticeships Helpline at 0800 100 900 where they can advice you regarding possible employers in your locality as well as your chosen field. They have access to all the important people who will be able to help you launch your career as a professional hairdresser.
Moving on to NVQ, what is it?
NVQ stands for National Vocational Qualification. It is a recognized qualification award that is achieved through reaching the levels set by the national standards for certain occupations. Thus, an individual applying for an NVQ must display competence in the actual field of work.
Candidates who want to apply for NVQs are those who are at a mature level of thinking, young and old alike, maybe studying or not as long as they have access to work may it be part time or full time.
National Vocational Qualification has levels that can range from 1-5 depending on the job description. These levels were established to show the differences among the qualifications per level at the same time what is required to reach the next step.
Implementation of NVQ is done through assigning a qualified professional to observe the skills of the applicant in the work area and at the same time test his/her knowledge by questioning about the same topic.
Once a level of the NVQ is completed, you become qualified to proceed for evaluation of the next level until you reach the highest point which is getting certified as a professional on your chosen field.
For hairdressing, its national vocational qualification levels basically range from 1-3. Beyond these already include salon management, so we'll only focus on Levels 1, 2, and 3.
NVQ Level 1 of Hairdressing- In this level you are expected to know the right ways to shampoo and condition hair, assist in coloring, assist in hair perming and relaxing services, and assist in basic reception duties such as setting appointments for clients and welcoming them in to the salon.
NVQ Level 2 of Hairdressing– In this higher level, more confidence and critical thinking is expected of you. You should be able to inspire customers to take care of themselves, provide advises and consultations to your clients such as the appropriate hairstyle for every face shape or the perfect shade of hair color in contrast with their skin color, do basic hair cutting, dress or style hair, and independently change color.
NVQ Level 3 of Hairdressing– In this level, skills expected of you are as follows: promotional abilities especially of sponsoring products and the salons services, make different looks out of combining cutting techniques, apply hair extensions, correct wrong hair coloring, collect and evaluate customer feedback, contribute to financial gains of the business, and plan and implement promotional strategies.
Good luck on your pursuit of an hairdressing apprenticeship and becoming full time hairdresser
Suzy Somers is a regular instructor for hairdressing apprenticeships courses all over the UK. For more information about how to become a hairdresser visit here at the Hairdressing Apprenticeships Academy. She lives in Liverpool with her husband and two kids.
Author: Suzy Somers