If you want to learn how to become a hairdresser, the best place to start is at home. Taking the time to become a hairdresser is a lot of work and it requires schooling. Before you spend money and time on something that may not be the best job for you, practice your current skills at home. Your friends and family are the perfect people to try out new designs and see if you enjoy doing hair. If you find yourself doing a good job and having fun, it's a good time to take the next step in how to become a hairdresser.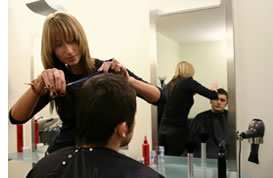 If you go to college to learn technique you'll be able to take an exam later that lets you become certified. Beauty/Cosmetology school will teach you everything you need to know about how to become a hairdresser from learning how to do different cuts to hair and even the right chemical combination to get blonde highlights. You'll also be given the opportunity to practice on people who volunteer to be "guinea pigs" for inexpensive or free haircuts and styles. Teachers will be able to determine what your weak points are and help train you so that you'll be able to pass your exam with flying colors. But that's not all it takes when it comes to how to become a hairdresser.
When you are finished with school, you'll find the demand for hairdressers is incredibly high. This means that current hairdressers may have an overwhelming workload and will need apprentices to help them get their work done. If you get a job as an apprentice for a hairdresser you'll learn how to become a hairdresser firsthand. There will not only be experience in doing actual hair but also getting accustomed to the clean-up process. You'll also see what the pay is like, how demanding the job is, and figure out overall if it's something you think you'll enjoy. All the while you'll be training to help you with your career and studying to pass the certification exam.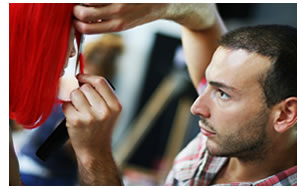 This exam is a very important part of how to become a hairdresser, so if you have your heart set on doing hair for a living then you need to study hard. You can learn from books from your schooling, hands-on experience from your internship, and also review potential written parts of the exam online. If you feel you want more experience than what you get from your work experience placements, you may consider offering to do services from your home or from the salon for discounted rates. This way you'll have the opportunity to try all kinds of styles and understand the pressure of doing hair exactly as the customer requested.
The final step in how to become a hairdresser is the college exam. This will certify you as a fully trained hairdresser and help you get a real job in the field. You may even find a job waiting for you at the salon you did your internship at.
Now, you can cut and style hair like the pros…
For a step by step video course visit http://www.HairdressingMastercourse.com now.
These hairstyling videos will teach you professional hairstyling and hairdressing in 2 hours or less with step-by-step DVD videos.
Author: Toni Moretti