Celebrity Sparkle
Celebrities love to sparkle, and now they really do! Beyonce, Fearne Cotton and Jessica Wright (The Only Way is Essex) are all using Hair Dazzle to add sparkle to their hair.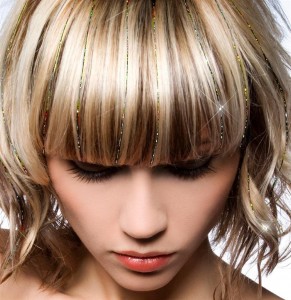 Hair Dazzle are reflective sparkling strands that are temporarily tied into the hair adding shimmer and sparkle at every movement. With names like Vegas Baby Gold, Over the Rainbow and Disco Ball Silver, there's a Hair dazzle to suit all colours, styles even outfits! You can match the colour (a choice of 15 in total) to your own hair for subtle shimmer or contrast for sparkling hi-lites and really make an impact.
It's easy to attach, doesn't require glue or heat, so no damage! Hair Dazzle last up to 3 weeks, can be washed, blow dried and styled like normal hair – yes even straightened up to 200 degrees C!
The product is already a salon staple service in the US – featuring in over 300,000 salons – and has gained notoriety on the heads of international stars such as Beyonce, Jennifer Love Hewitt, Whitney Port (The Hills/The City) and Adrienne Maloof (Real Housewives of Beverly Hills.)
And since Hair Dazzle launched this hot hair product it's definitely catching – it can be found in many of the coolest UK salons for a PRO application or online at www.hairdazzle.co.uk
How to attach Hair Dazzle
A typical pack includes 100 strands and this is enough for 5-10 full head applications.Imagine yourself dazzling on the dance floor or turning heads in the street.
Hair Dazzle Gallery
Are you using Hair Dazzle or similar products? We'd love to hear what you think of them. Please leave a comment below.