The step by step guide to celebrity hairstyling.
New DVD Easi Style offers an easy way to learn how to create those celebrity styles. Created by celebrity hair and makeup artists Lee Din and Donna Clitheroe, the DVD includes 7 amazing hair styles inspired by this season's celeb looks as well amazing advice and styling secrets.
Lee and Donna were constantly getting asked how they create the celebrity look so decided to share their secrets with this well designed and professional package. Kate Thornton describes the pair as "Donna and Lee aren't just hair and makeup artists, they're magicians".
Secrets of the Stylists
Along with the step by step DVD guide comes all of the tools needed to easily re-create each look.
The kit contains:
1 celeb styling DVD
1 large curling brush
1 medium curling brush
1 bristle comb
1 tail pin comb
1 netted donut
6 large blonde bob pins
6 large brown bob pins
6 small blonde kirby grips
6 small brown kirby grips
2 blonde hairbands
2 brown hairbands
3 metal sectioning clips
1 black head scarf
As well as the DVD revealing how to create gorgeous celebrity glamour, we also have the Easi Style Facebook,  Twitter, YouTube and website pages with updates on how to create new looks, celebrity beauty amazing competitions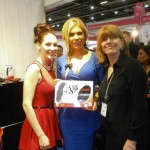 The DVD pack goes on sale next month but we got a sneak preview at the Professional Beauty Show (read our report). There were over 40,000 people at the show, and the stand got a lot of attention, including Frankie from TOWIE (pictured left).  You can get your hands on the pack early at the Ideal Home Show March 16th – April 1st in London's Earls Court.
Boost Salon sales
The kit makes a perfect complement to a day out at a spa or high-class salon. Salons can stock it on their product shelves as a take-home, or build it into the cost of a treatment.