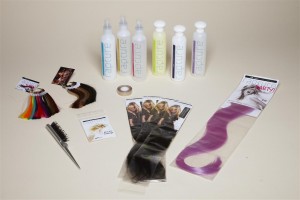 Calling all hairdressers! Rapture Hair Extensions will be showcasing their new products at this years  Professional Hair LIVE 2012 in Manchester on the 1st and 2nd of April.
It wont break the bank!
Rapture hair extensions is the quickest and easiest hair extension for a full head  in  60 minutes.  Rapture hair extensions are great to cut and style to meet your client's needs and  of course made from 100% Human Hair which can be treated like your own real hair and can be re-applied and worn for many months. Rapture Rapid Hair Extensions have further developed their range of already "invisible" extensions so that they are even more discrete. Rapture Fusion is being re-launched to bring the original Mane Connection system into the 21st century.
What are they offering?
Rapture are offering special show training discounts, opening offers and goodie bags  in this hairdressing show so put a date in your diary or you will be missing out!
Show Offer 1:
Rapture are offering Rapture Rapid training including a kit for just £299; if you book a second place then they are offering this for just £50, a saving of £50 on the usual list price.
Show Offer 2:
Rapture Fusion – a full day's training is available at the show for just £399, a saving of £100 on usual prices.
Show Offer 3:
To celebrate the re-launch of Rapture Fusion a special show deal has been developed, 1 pack of bonding, (enough to complete 10 full heads of hair extensions), plus an applicator, for just £60, a show saving of £50 against list price.