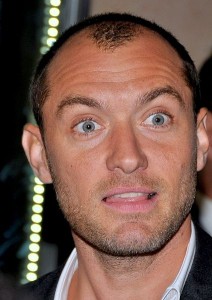 With recent images of Jude Law emerging sporting a thinning barnet, not to mention Prince William and Wayne Rooney who are well known for their receding hair lines; male hair loss is becoming more and more of a hot topic in the media.
Yet, unsurprisingly, it still doesn't tend to feature as a topic of conversation on most boys nights out; instead hair loss is still considered a taboo subject amongst a significant number of males in the UK.
In this video Dr Hilary Jones and top hair stylist Mark Woolley offer their advice on coping with and treating male hair loss.
Despite the subject finding its way onto front pages, proving that even the young and famous can find themselves dealing with the prospect of hair loss, a survey commissioned by REGAINE(r) for Men Foam shows that British men are 20% more likely to worry about going bald than finding a long term partner and 50% more likely to worry about hair loss than going bankrupt.
Research reveals that 40% of men under 35 are already losing their hair. Yet amazingly, 7 out of 10 men questioned in the survey admitted they do not talk to their friends or partner about going bald, and nearly a quarter of British men who were surveyed admitted the reason that they don't seek help or advice about hair loss is because they simply don't believe the treatments work.